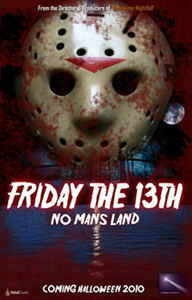 Last week we brought you behind the scenes photos and information on the new fan film, 'Friday the 13th: No Man's Land'. Now, Light Beam Productions have released their first trailer for their film. It plays very much like a teaser trailer, but leaves you knowing what you are going to expect. Check out the trailer below.
No Man Land is slated for a Halloween 2010 release, so get ready to be stalked by your favorite slasher once again. Take a look at some of the production and behind the scenes photos below and follow all of the action up until release day at the official Facebook page for the film.
 
Synopsis:
Friday the 13th: No Man's Land is a thrilling new fan made venture which returns us to the terrifying world of Jason Voorhees, and the chilling area he calls home, Crystal Lake. When a group of youngsters, accompanied by two road travellers find themselves stumbling accidently into the now abandoned realm of the infamous and long since gone Camp, it isn't long before they are picked off one by one by someone who isn't too happy to have been disturbed. Shot entirely in the United Kingdom, F13: No Man's Land brings Jason back once more to unleash bloody terror just in time for Halloween 2010.