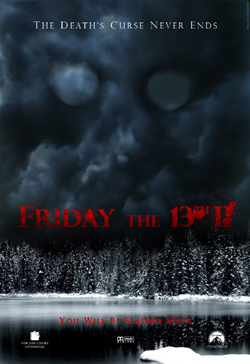 At first I thought this would be crazy. The Halloween franchise has run down this path already. There have been a number of people who visit this website as well as have contacted PD that have hinted at the possibility of the next Friday the 13th remaking itelf again. Basically, starting all over, going back to the infamous Camp Blood before all of the murders began.
I have compiled some various ideas and tied them all together into what a true remake could be:
We see a summer camp operational with carefree teens and counselors, that is,  until one fateful night when something happens that changes everyone's life forever.  The townsfolk don't speak a word of the events that unfolded that night. Rumors spread of visitors from out of town wondering off into the forbidden areas of the once operational camp, never to be heard from again. Things have been peaceful for 5 years now with no incidents to speak of. That is, until the land of the old camp ground was sold off.
Now, the new owner and nine friends decide to meet at the old camp ground to assess the value of the land and stay the week. They never realized the horrors they would discover as they endure a 24 hour nightmare of blood at the infamous Camp Crystal Lake.
After I finished this up, I thought, hey this could be decent. Why not start over from the beginning. You could still have Jason in the movie in a different capacity. The event that triggers the beginning of Camp Blood could be different and more terrifying. The winter setting could be implemented, setting this remake apart from the original. Who knows? If PD dosn't get the greenlight for the sequel and Warner Bros. wants to go a retro route, this could be an option.