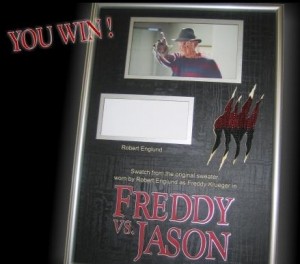 Mario has set up a very unique and adventurous contest that some fans will be very excited about. How about a scavenger hunt located at some of the Friday the 13th filming locations?! If you head over to the Friday the 13th Props Museum you can read all of the contest rules to find out how you can enter the contest.
Please remember that a lot, if not all filming locations are private property. Please do not get arrested for the sake of the franchise! Get the proper permission first. Lucky winners will receive the item pictured to the right, which is a great display featuring a swatch of Freddy's screen worn sweater from Freddy vs Jason. There is a section of the display where you can have Robert Englund sign. The display comes with a COA.
So, check out the Props Museum website and good luck to everyone. Hey, it's summer. Go camping.