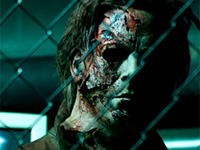 Todd Farmer (Writer, Jason X) was fast at work creating a script for Halloween 3 last year when all came to a sudden halt. His infamous detailing and disappointment of the process on his blog was indeed a reality check and a great view into the inner workings of the film business. Since then, Todd gets asked, probably everyday, if his script will ever see the light of day for Halloween 3. Speculation always runs rampant. Today, Todd is not helping that speculation.
On his Twitter account, Todd mentions, You know, @WeinsteinFilms, if people see me leaving your NY office they're gonna speculate. So I'm gonna sneak out the back.
Take that for what it is, but Todd always likes to have fun commenting on his Twitter account. Does this mean that Todd is working with the Weinsteins to get Michael Myers back into cinemas? Who knows at this time. I like Todd Farmer and the work he has done and I hope Halloween fans get the type of movie they have been looking for. I think Todd can belt out a great script and hopefully help create an awesome Halloween film!