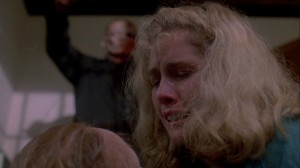 Scabby at Scab's Horror Blog posted a story about the new DVDs being reviewed at HorrorDVDs.com. In the review of The Final Chapter, they put up a screen cap of Jason in the alternate ending. For eveyone out there that has complained they wanted to see Jason, here you go.
Check out the HorrorDVD website to see all of the reviews for the upcoming DVD's. I have to say that after I read the reviews I am real excited for these releases. I might even have to double dip on the DVD before I get the Blu-Ray.
The Final Chapter Review Snippet
The big ticket here is "The Lost Ending" (3:20), and it definitely does live up to the hype. It's another dream sequence in the tradition of the previous three Fridays, including a shot of Jason sans mask. The sound elements are long gone, but it's assembled well and Joseph Zito and Kimberly Beck provide some nice commentary.
A New Beginning Review Snippet
All of Paramount's Dolby Digital 5.1 remixes haven't been as stellar an upgrade as the images, but of the bunch, this one is definitely the best. There's finally a sizable amount of bass, with this remix really coming through with depth and oomph. When cars start up, axes hit or bodies get impaled, the sound really registers on the low end. Dialogue is exceptionally clear and crisp, without any hiss whatsoever. I've always been a fan of Manfredini's work on A New Beginning – the mysterious sort of shimmering and those questioning woodwind riffs really expanded the soundspace of the franchise, which had sort of been on autopilot for the previous three films. It's captured wonderfully here, and like with the other mixes, it's basically the only thing that gets pushed around to the rear speakers.
Jason Lives Review Snippet
First up is the commentary with Tom McLoughlin, editor Bruce Green and actor Vincent Guastaferro. This represents a sort of balance between the fact-heavy filmmaker commentary on The Final Chapter and the jokey one found on A New Beginning. McLoughlin and Guastaferro really keep this going, bouncing memories off of each other throughout, with Bruce Green mostly quiet, but occasionally chiming in with interesting editing anecdotes. McLoughlin shares a lot of great tips on directing techniques and also really remembers every minute detail of the film. McLoughlin previously went solo for the commentary track on the box set, but with Guastaferro there to keep up the levity, this is an even better track than before.