I wanted to start off saying that the Horrohound magazine, in my opinion, is the best horror magazine in print right now, period. Everything they put into one of their issues is exactly what fans want in a magazine dealing with a crazy genre of film such as horror. They have well written articles that get to the meat of what fans want to know about and what they like to hear about. It's not just the articles on upcoming movies that can pique a person's interest, but also their retrospectives on past horror films that really are impressive.
Alot of time and effort is awarded to these retrospectives. It's not just getting interviews with the crew, but location visits that include pictures and researching the memoribilia and sometimes screen used props that set these type of articles apart from the tired one-sided look-backs that I have seen in other magazines. I know the type of work put into researching what they have accomplished as I have done a lot of snooping around for info for this very website.
That being said, Horrohound Magazine's retrospective look at the Friday the 13th franchise is simply amazing as it comes from the perspective of the everyday fan and what that fan would want to know and see in pictures. Peter Bracke's book, Crystal Lake Memories, is a well informed document about every movie made in the series as told by the people who made it. For die hard fans of Friday athe 13th, it was a dream come true. However, reading interview answers is not everyone's cup of tea. So, Horrohound's approach was to have each of their staff writers contribute their thoughts on invidivual movies in the franchise while showcasing some amazing pieces of memoribilia that have been produced throughout the years.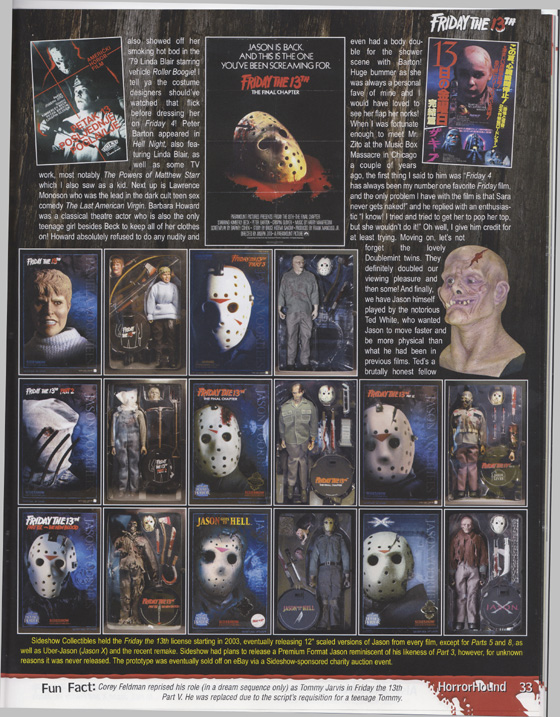 Many of these pieces have been reported on and made available to see on our website within the last two years. However, I am sure there may be something that our visitors have missed in that time period, so this retrospective brings it all together nicely. The pages contain a beautiful archive of masks, action figures, lobby cards, posters and so much more.
I highly recommend that fans of the Friday the 13th franchise pick up a copy of Horrohound #24 as you will be able to read some very informative and personal accounts of every movie in the series. Couple that with some awesome imagery of everything conceivable for marketing and merchandising and you have a true collectable for many, many years to come. Get out to your local book stores and buy this copy or visit Horrohound's website to order online!