Archive for mask
You are browsing the archives of mask.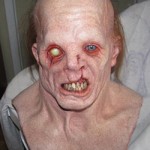 I love this mask as it not only has a realistic look from the film, but they used an acrylic eye and teeth to give the mask and added dimension of realism. The auction has started at $299, but it is a solid made mask and could be great for a display bust for your collection. Check [...]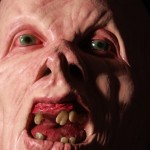 I found these pics at Horrorbid.com. Known as "Brute", this mask accurately depicts Stan Winston's makeup for Jason in the alternate ending to Part 3. The alternate scene and Jason makeup were ultimately scratched, but I still think it's a cool look for Jason and probably a better ending as well!
Alternate Ending Photo of Jason [...]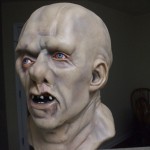 I just found this new listing on eBay and it is a really, really good pull of Jason from Part 3. Check out the description from the ebay listing below.
This Auction is for the very first pull of "Jason 3D"
This is the prototype .
It is very thick latex and is a display copy with no [...]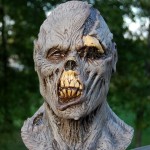 I haven't posted about any Jason Lives masks before, but this one is very well done. It is highly detailed and I love the glossed over eye and the teeth look very realistic. I found these pics at Horrorbid.com and am very impressed!
This mask was made by Bump in  the Night and was recently sold on eBay. I like this mask a lot as it is covered with seaweed and is pretty life-like. It may not be the most faithful to the screen rendition ever made, but I think it comes close enough and would be worth [...]
As you don't normally see too many of these types of masks made or even sold, I thought that this was a bit refreshing to find out there. This mask is made by Jason Wylde and is up for sale at eBay right now.  I think the mask is a pretty fair rendition of Ari [...]
Up for auction now is a good looking hood from Darkside Designs. The pictures below include the shirt and hockey mask, but sadly those are not included in the auction. Maybe interested parties could talk to the seller and see about including these pieces as well for an extra cost?
This is a MMFX Uncut Latex Jason Bloody Mask Bust Prop from Friday the 13th Part 3. This has some pretty good detail and I love the blood running down the face. Great job on this piece. This along with The Final Chapter Jason bust I wrote about a few weeks back would be awesome to [...]