There was a pretty good discussion going on between the visitors on our site in another blog posting and I thought it would be good to start a blog on this topic as it is always something that is greatly debateable and fun to discuss! Thanks to JJ for bringing up this point. I think I'll start a new discussion each week or so on a new Friday topic and see where it leads us.
What's your favorite look of Jason?
Disclaimer: This is not a Bracket Challenge. :)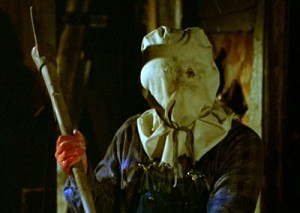 Part 2
The sackhead is in vogue again due to the new movie that was just releases, but the original is a classic. Goota love those overalls and flannel shirt too.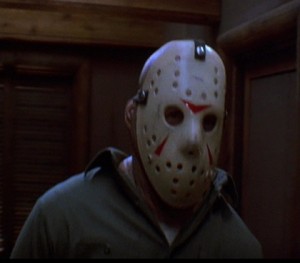 Part 3
The original, clean look of Jason with the hockey mask for the first time. The mysterious change in outfits and loss of hair on head and face for Jason is overlooked and forgotten about due to the introduction of the hockey mask.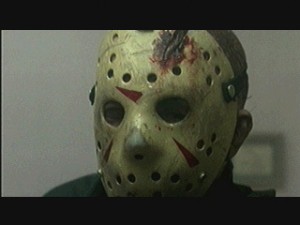 The Final Chapter
Essentially the same look as Part 3, except now including the trademark axe cut to the head. The most famous battle damage in franchise history.
 A New Beginning
Pseudo Jason or just plain Roy to some, is sporting the mechanics coverals and blue chevron hock. As this is technically not Jason, it is easy to dismiss this look, but since he is being passed off as Jason for the purposes of this movie, his look is worth noting. Also, I can't tell you how many people think that Jason wears the mechnics suit permanently as his real attire.
Jason Lives
Jason returns from the grave, this time his outfit includes yellow work gloves and psycho utility belt. This belt comes complete with machete, hunting knife and throwing darts. Questions is, what paintballer takes this belt with them to just play a paintball game?
The New Blood
This makeup masterpiece highlights all of the battle damage that has been inflicted on Jason throughout all of the movies as well as lake rot that has eaten Jason literally to the bone. Exposed teeth and jaw, spine and rib cage show off the evil insides of Jason!
 Jason Takes Manhattan
Somehow after spending more time at the bottom of Crystal Lake, Jason can grow clothes back onto his body and have no more exposed body parts. At any rate, Jason has a cool look of a slimmed down Manhattan night stalker with black gloves to boot.
Jason Goes To Hell
This version of Jason is an amalgamation of all looks from the franchise. The enlarged head is reintroduced from Part 2 as well as the exposed spine , axe cut and missing eye from the machete blow to the head from Part 4. The coolest part of this look is the fact that the hockey mask has become fused to the head of Jason, almost melted in. Also, Jason has hair again!
 Jason X (Regular Look)
Jason has hair, once again, as well as a torn up straight jacket and shackles attached to him to really sell the look of deranged killer. Although this hockey mask is a departue from the classic look of the others in the series.
Jason X (Uber Jason)
A total departue from any look ever imagined possible in the franchise. Hated by many, there is no denying that within the context of this movie it looks great. A well conceived look, it is one of the better special effects job done in the movie. Metal mask, red eyes and a futuristic machete. He was indeed upgraded!
Freddy vs Jason
Jason returns to the dark skinned, rotting corpse complexion that many came to love in the late 80's. The original hockey mask design returns as well and now Jason is cold and wears a Jacket. Oh yea, don't forget the Ronny Yu special, Herman Munster walking boots.
 Friday the 13th (2009)
The sack returns and looks completely menacing. Some say that they should have left Jason wearing this the whole movie. Outside of Jason wearing the jacket once again as in Freddy vs Jason, the new feature to Jason is his leg brace holster attachment for storing his machete. Awesome!