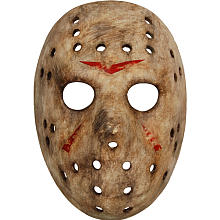 I know that I am way late on talking about this item, but I was on Toys R Us's website purchasing something and came across the replica hockey mask from the new Friday the 13th. I have seen this floating around eBay and other places for sale, but I did not realize how good this looks. For an item that is mass produced, it is not bad at all. It's $20 and you can't go wrong at that price.
It does come with elastic straps instead of the leather straps from the movie, but again, for the price you can't go wrong. Below is a pic from someone who bought the mask and put it on a their Jason Bust.
This mask is supposedly heavy and durable. Anyone on the website own this sweet little deal?