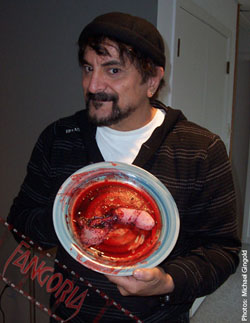 No, I do not kid with that title. Horror legend Tom Savini is directing his film Wet Dreams which will be a segment of the horror anthology THE THEATRE BIZARRE. The film will definitely have its fair share of unique and disturbing imagery. I dare you to take a look at the photo of Tom to the right and guess what he has on that plate! I would tell you what it is, but it is much more fun to let everyone guess!
Fangoria Magazine was on set during filming to snap a few pics and talk to the writer and director of the film. Scripter Joe Esposito explains to Fango that "It's about a guy who seems to be in a really troubled marriage. We get his backstory from this series of dreams he's having. He's seeing a psychiatrist, played by Tom, who is trying to get to the bottom of what's motivating his anguish. He's tortured metaphorically, but we actually enter his psyche and see his marriage sort of on display in this torture chamber."
The film should be an interested mix of gore and psychology. If you want to read more about the movie, visit Fangoria for more pics and information about the film……. and some clarification on what Tom has on that plate.