In the 1980′s, Jason Voorhees, Michael Myers and Freddy Krueger were the kings of horror. Each character in their repspective franchises commanded the attention of the fans and censors alike. Marketing and merchandising was at an all time high and profits were through the roof. So, many in the film industry as well as the fans of these movies wondered why, after all of their successes, they would change the formula or stories altogether.
In 1982, the Halloween franchise shifted gears and left Michael Myers behind to embark on an entirely new story about the maniacal Conel Cochran with his terminator like robots and magically possessed Halloween masks. The idea of John Carpenter and Debra Hill to create a type of Anthology series of films seemed like a great idea at the time as everything Carpenter touched turned to gold. However, as everyone found out, you don't change something that works, as fan backlash destroyed the franchise for six years.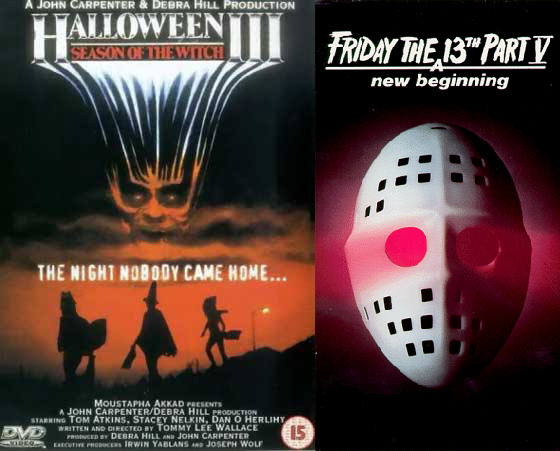 The one constant in the Friday the 13th franchise is Jason Voorhees. Even in the original 1980 film, Jason made his appearance towards the end of the movie to scare audiences around the world. So, it baffled fans when Paramount decided to kill Jason in 1984 and eventually create a new Friday film without their star as the main focus of the franchise. The decision to move forward with Tommy as the new killer still baffles many faithful followers and still is a focus of discussions 25 years later.
Looking at these two films, which black sheep of their respective franchise is the hardest to swallow in terms of concept as it relates to the movie series they belong to? Is there one movie out of the two that is more superior to it's predecessor in terms of production value and story concept? Are both just as relevant in their film series as the others within the Halloween and Friday the 13th franchises?
Posted by jasonsfury