Scenes for movies are blocked out using storyboards. These hand drawn scene representations are most important in aiding a director and crew in setting up a scene for filming. I really enjoy finding these storyboards as sometimes you see that a scene may have been originally conceived to be filmed one way, but ultimately end up being a different way.
There are way more storyboards available for viewing than what I have listed below, but I wanted to list these as they are some of my favorites:

The scene where Nikki has her head rammed through the wall of the RV originally had Jason also shoving his machete through the back of her head as well. (Storyboards courtesy of this website)
 The picture I took is not the best, but these storyboards were created by Crash Cunningham for the alternate ending that the director never filmed. These were used on the Deluxe DVD that was released in June of '09. It shows Jason's father paying the grounds keeper Martin for taking care of Jason's grave. In the original script, Martin was not killed by Jason.
John Carl Buechler's set used storyboards (Source: Crystal Lake Memories)

Rob Hedden's set used Storyboards (Source: Crystal Lake Memories)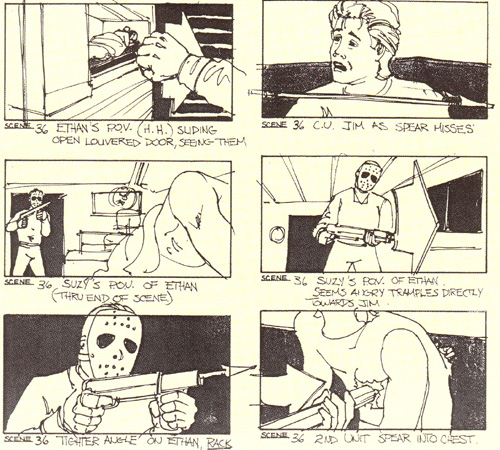 (Source: Jason Goes To Hell Movie Magazine)