I recently bought these VHS tapes for my collection and I really like seeing "Freitag Der 13″ in big bold red text. It's always fun to see the title displayed in different languages. Check out the back covers for The New Blood and Jason Takes Manhattan. A few different pictures are used for the back covers, which I always like to see. After staring at one picture on the back of the US covers for so many years it is nice to see an array of pictures to look at.
The back cover for The New Blood features Dr. Crews working overtime to make Tina crazy so to exploit her powers. "Dr. Crews, what's that big metal spike sticking out of your back pocket?" Also, the Jason Takes Manhattan cover displays a shot of Gang Banger #1 "handling" Renee. This is a pretty rare photo to show up on any cover for this movie regardless of home video format. I still don't understand why Gang Banger #1 did not win the Gangs of New York Bracket Challenge. What does Street Urchin have that he does not?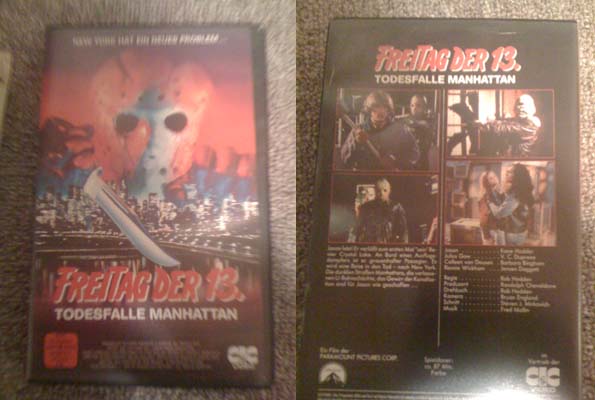 I also received the VHS for A New Beginning, but the front cover and pics on the back cover are the same as the US vhs and laserdisc so I didn't see a need to post a picture for that. However, the Part 2 front cover is completely different from any other cover that is out there and I like it because it takes the concept of a figure holding an axe and makes it more like a three dimensional figure/axe. The back cover is exactly the same as the US release, so there are no pics for that.