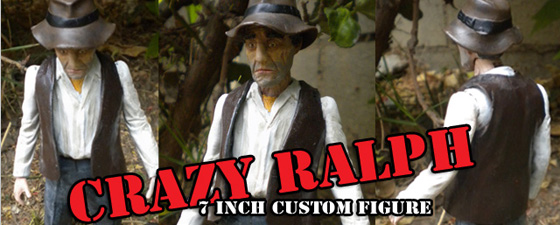 The summer contests that fridaythe13thfilms.com have run so far this summer have been met with tremendous success as we have had great turnout with contest entries. For those that are new to the website, check out our previous contests Part 1 and Part 2 and see what our great visitors have already won up to this point. Well, next up for our Summer of contests is something very special that we have been hinting at for a few weeks now. Here is you chance to win a one of a kind 7 inch custom Crazy Ralph figure from One's Customs.
This contest is going to involve a lot of people as this is a joint contest between visitors to our website as well as One's Customs' Youtube Channel followers. I am sure you all want to know how to win this awesome figure, so below are all of the details for the contest.
How To Enter The Contest
1. First things first, you need to find the video review of this custom Crazy Ralph figure at One's Customs' Youtube Channel. Be careful as there may be another video of ol' Ralph posted at the channel from an earlier date. You will know when the correct video is found as it will reference this contest.
2. Copy the Youtube link of the video review and email that link to [email protected]. Please put "One's Customs Contest" in the subject line. Yes, people who frequent One's Customs Youtube channel will have a slight advantage as they will have already found this link before visiting our website here, but it is an even playing field after this point.
3. Once the initial email entry is received by this website containing the correct Youtube link, visitors will then receive a reply to their email entry with six trivia questions. All of the questions pertain to our favorite Prophet of Doom, Crazy Ralph. Answer the questions and then email your reply with the answers back to [email protected].
4. The contest will start Thursday July 8th and end on Sunday August 1st. After August 1st, email entries with the correct trivia question answers will be thrown into a hat and a winner will be randomly selected. The winner will be announced on One's Customs' Youtube channel the following week. Make sure to follow the instructions given above as well as the instructions given in the emails that are sent out.
If you have any questions, leave a comment below as the comments are always viewed and an answer will be given to you shortly. Big thanks go to One's Customs for generously donating this extremely detailed custom figure for a lucky fan to win! Good luck in the contest, have fun, and thank you to everyone for helping celebrate the 30th Anniversary of Friday the 13th!