Archive for hockey mask
You are browsing the archives of hockey mask.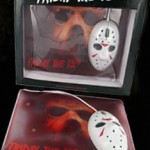 I came across this item again while researching some information and I thought the mouse looked pretty cool! It has nice detail and and would be a fun piece to add to a fan's collection. Now, I have seen a picture of this before, and even another listing to buy, but I cannot find any [...]
I really like both of these creations from Part 3. The hockey mask is striking in it's accuracy and I think everyone will agree that this and the bust are spot on with the movie. To see more pictures and to find out more about these items, check out jasonlivessince1980 at his new blog, http://jasonlivessince1980.blogspot.com/.
For those looking for a good looking replica reboot hockey mask and generic hood, this is something to check out. The hood is not specific to any of the films, but with a starting bid of $200, you get a great value price for an authentic looking display of Jason Voorhees. Read the description below [...]
I know that all of the Friday fans were happy that the reboot utilized the original hockey mask look from the original franchise. I, however, think that if the movie was going to be a true reboot, they should have changed up the look of the mask. I think this "Warhawk" mask would be the [...]
I know I am tad late in finding this, but over at Scab's Blog he mentions Crash Cunningham's $100 Hockathon. For those of you looking for an awesome hock for a Halloween costume or just to add to your collection this is the way to go. Check out the banner below.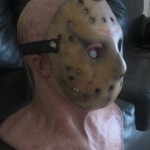 This combo set is up for sale right now at the Fright Stuff Forums This looks really good and is worth the price if you are a serious collector. This has great detail and there were only 5 of these hoods made. You will need a login and password to gain access to the message [...]
To some, he is simply known as Jeff. To a legion of online folk as well as convention attendees, he has grown into somewhat of a legend known simply as Wickedbeard! The man with the very fitting name, given that you never know what shape or form his beard will take on next, has carved [...]