Archive for part 5
You are browsing the archives of part 5.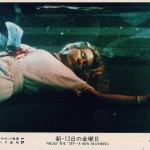 I have been meaning to post these up here for a while and keep getting preoccupied, so here they are. They are really great cards and are much different than the Mexican lobby cards that I own. I have to say thanks to daizab for using these images.
This is awesome and is the first time I have seen this for sale in a while. Check out the seller's description:
This is the highly sought after and VERY RARE "Impostor Roy" by artist Jeremy Bohr
This is from the original run and is signed by the artist and numbered on the inside. This is marked [...]
One's Customs has been busy and he has finished his custom Roy Figure that is extremely detailed. The figure has all of the wounds inflicted by Reggie and Pam, such as the tractor gash in Roy's sternum and the chainsaw cut in Roy's shoulder. The great thing is this is part of a diorama that is being [...]
I was thinking we could use some good ol fashion laughs to get through Saturday night. After making the bracket challenge for Mothers of Friday the 13th, I seriously thought about posting this following video with Ethel, but I thought it might sway too many votes. Since the voting is pretty much done on that [...]
Steve De Roover of  www.moviepulp.be / www.dvdinfo.be recently interviewed Shavar Ross who played Reggie the Reckless in 1985's Friday the 13th: A New Beginning. Shavar discusses his expreriences in the film, what the film did for his career at an early age and what he currently is doing now.
How did you get involved in the movie/entertainment-business and [...]
"Germaniac" has been a busy boy and with the help of Google Earth and the The Friday the 13th Community we now seem to have the filming location of A New Beginning.  The address is 9442 Santa Rosa Road, Camarillo, California, USA. I am pretty sure this is it, but check out the photos below to see [...]