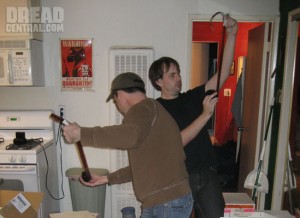 Thanks to Kasch for commenting in a recent blog about this item. Dread Central recently talked to Dan Farrands, producer of the bonus features for the new Friday the 13th DVD releases. Farrands explains what it took to create the features and how Paramount cooperated with the process.
"We told them we needed every single frame from these movies, and Paramount literally sent us any scrap of Jason film that they still had in their vaults from all over," said Farrands. "Boxes were being delivered to me and Andrew [Kasch, who served as editor for all the bonus features] for weeks on end, and we pored through every single second of it."
One of the long-time controversies that always surrounds the Special Edition DVD phenomenon is that studios release them, and then a few years later they somehow come up with new and better material to entice fans. Farrands wants to ensure fans that this isn't the case with these editions.
Farrands said, "The reality is that back when these movies were being made, home video was just getting started so no one had the foresight to think that all this extra film was going to be of use in the future. DVD hadn't even been dreamt of yet, so unfortunately a lot of the materials from some of the Friday flms were either tossed out of the vault or destroyed."
To read the whole article, visit Dread Central