This has been a long running debate that has been listed here on this site in the old forums and continues on in forums on other Friday the 13th and horror websites. However, while talking with a friend about the two Halloween movies with the Jamie Lloyd character, Halloween 4 and 5, my friend determined that all psychopathic killers would indeed kill children. They pointed out that Michael Meyer's sole motivation in those two movies was to kill his little niece. I agreed that to be true, but the basis of that motivation was family and not the fact she was a kid. Of course, the conversation turned to Jason and if he had ever killed or would kill a kid. I said that he had not and that I don't believe that anyone involved in the making of the movies would ever allow that to happen.
Now, there have been two instances in the franchise that have given Jason the chance to kill a young kid. In The Final Chapter, Jason has a moment where he can decide to chase after Tommy or chase after Trish. He, of course, chooses Trish and Tommy is left to shave his head. In Jason Lives, Jason is walking through the cabins at the camp and happens across a frightened Nancy that is awake and is very aware he is watching her. Jason leans in towards her, but then is quickly interupted by the cops pulling up in front of the camp and then Jason quickly leaves.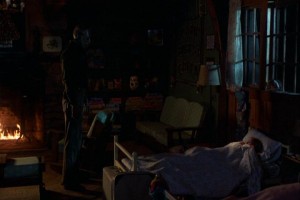 Jason, with a choice, went after the teenager and left the child behind. What would Jason do without that choice? Would he choose to kill the first kids he sees in sight. Would Nancy have survived if Sheriif Garris had not arrived at the camp?