Archive for reunion
You are browsing the archives of reunion.
Well, to ring in the new year, the promoters of the 30th anniversary reunion have treated fans of the series to a new update for their Friday the 13th event this August 13th. Not only have new guests been announced, but one of the special attractions taking place at Camp Blood, Fear Fest, has also [...]
From Camp Blood Reunion Website:
Friday the 13th 5 director Danny Steinmann makes his 2nd appearance in TX!
Paul who got it in the balls actor and first timer Clyde Hayes aka Alan Hayes joins the "Final Chapter" lineup. And since TFC is my absolute favorite Friday… how bout Nurse Morgan herself, Lisa Freeman?
Last, but certainly not [...]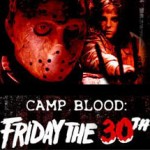 I have been waiting patiently for the guys at Pit of Horror and the organisers of the Texas Fearfest conventions to announce their big Halloween update. And now you will not be disappointed as the one and only Steve Miner will be in attendance!! He has never before appeared at a con or graced any [...]
Another update has been announced for the reunion next year, Friday August 13th through Sunday August 15th. I am loving these additions. So many actors and actresses that have never been accessable to the fans are going to be there. It is truly going to be an exciting time for the fans. www.fridaythe30th.com
Next year at the 30th reunion of the Friday the 13th franchise, there will viewings of the Friday the 13th films outdoors on the big screen. Not all films will be able to be shown, so now is your chance to voice your opinion and help choose which movies will be shown at next year's [...]
The guys at Pit of Horror continue to impress with the guests they are signing for this huge reunion. Check out the list below to see the new guests that have been added to the reunion. Many are first timers which will be awesome for all fans to meet and get those autographs.
As for the [...]
Please visit www.fridaythe30th.com to buy your tickets for the big event August 13th-15th.
EVENT TICKETS:
$25.00 DAY PASS – (Choose either Friday, Saturday or Sunday admission only).
$35.00 EARLY DAY PASS – (Day pass plus access into the show 1 hour before general admission).
$45.00 WEEKEND PASS – (Friday, Saturday, and Sunday admission).
$55.00 EARLY WEEKEND PASS – (Weekend pass [...]
How would you fans like to go for a swim with Jason Voorhees in Crystal Lake? Well, you can! Just confirmed at the Guts and Gory forum, fans who attend the Friday The 30th Reunion next August will have a chance to dive in with three actors who played the younger Jason. Go swimming with [...]
8/2/2009 UPDATE: Steven Williams (aka Creighton Duke) just confirmed for the reunion!
A huge update of guests has been added to the reunion. And let me just say that I am so impressed at who they have already signed for the reunion. I never thought I would see Steven Culp or Dominick Brascia at a convention. [...]
I just wanted to share this cool banner with everyone. As you can see things are moving along swiftly in preparing this event.  I really hope all fans can make it out to this once in a lifetime event!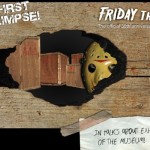 Part of the big news I mentioned can finally be posted. Mario Kirner, who owns the Friday the 13th Props Museum is in serious talks to bring his entire museum to the 30th reunion. For those of you who have not seen his collection, it is quite impressive. What's exciting about this rare opportunity is [...]
I have found out some really big news pertaining to the Friday the 13th 30 year reunion next year. I cannot say what it is now as final details are still being hammered out. I promise you that if this goes through, fans will be very excited and will defnitely want to head down to [...]