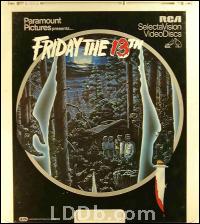 I was researching different home video formats this weekend and came across a format I had never heard of, CED. This format, from what I have read, was conceived before Laserdisc, Beta and VHS. Now, I was around in the early eighties only as a kindergartener, but my dad told me he never even heard of this. I get a pass, but he does not. Read below to get the skinny on this early home video format.
"This is a CED, Capacitance Electronic Disc, manufactured by RCA in the early 1980's. It is not a Laser Disk, CD, or DVD, and is not compatible with any other video or audio format. The CED is video and audio recorded onto a vinyl disc, and played with a needle, similar to an LP record. This technology was introduced by RCA in 1980. Thereafter, VHS, BETA, 12" Laser Discs, and DVD's came along. The CED Players were available under at eleven Brand Names. Over 2023 Video Titles were printed in the CED format. To learn more about CED Technology, go to cedmagic.com."
Production ceased on these discs and their players in 1986, but produced CED's for the first 5 Friday the 13th movies. I'm pretty sure there were no extras, just the movie on the disc. These discs are very hard to find now, but I am sure eBay will hold some hidden treasures for those who want to work hard at adding to their collection. Check out the covers below courtesy of the Laserdisc Database.