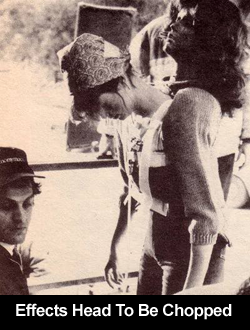 I have never liked the dream sequence ending for Friday the 13th Part 3. It has never made any sense to me why the filmmakers decided to have a previously decapitated Mrs. Voorhees attack Chris in her dream with a reattached head. The ending of the 1980 film was effective and made complete sense within the context of the film. The Mrs. Voorhees lake scene at the end of Part 3 did not fit into the context of the film whatsoever.
It has been written about in the past, and I strongly agree, that the originally conceived ending would have not only made more sense, but would have been more effective for the jump scare the producers were looking for. Now, the decapitation of Chris in her original dream may not have played out the way filmmakers would have liked, but that seems to be more of a logistical problem with the special effects rather than the end result the scene would have produced with the audience.
It has been said that the scene was never shot, but there are contact sheets that exist of the scene. If contact sheets exist then film negatives must have existed at some point and that means there must have been film of this scene. Larry Zerner even mentioned that he was present during the filming of the scene. I say give me the intended ending of the film and let me decide which is the better scare for Chris Higgins.
IMAGES COURTESY OF: fridaythe13thfilms.com, http://scabbyhorror.blogspot.com/ and www.retroslashers.net