Archive for hood
You are browsing the archives of hood.
For those looking for a good looking replica reboot hockey mask and generic hood, this is something to check out. The hood is not specific to any of the films, but with a starting bid of $200, you get a great value price for an authentic looking display of Jason Voorhees. Read the description below [...]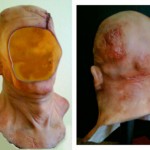 Since Halloween is just around the corner, there will be more posts on hocks, masks and costumes through the next month and a half. First up is a hood from The Final Chapter. This looks pretty good, but the seller claims that this came from the original mold from the film. I cannot confirm this, [...]
Up for auction now is a good looking hood from Darkside Designs. The pictures below include the shirt and hockey mask, but sadly those are not included in the auction. Maybe interested parties could talk to the seller and see about including these pieces as well for an extra cost?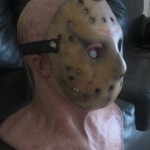 This combo set is up for sale right now at the Fright Stuff Forums This looks really good and is worth the price if you are a serious collector. This has great detail and there were only 5 of these hoods made. You will need a login and password to gain access to the message [...]