Archive for convention
You are browsing the archives of convention.
This weekend there is a huge convention in Parsippany, New Jersey. Chiller Theater has a ton of guests from different genre's of movies, including Patrick Stewart, Peter Fonda, Richard Dreyfuss, Danielle Harris, and two Friday vets Kane Hodder and Lawrence Monoson. Lawrence Monoson would be great to meet and get an autograph from as he [...]
The weekend of November 20-22 is going to be busy as competing horror conventions open their doors right across the border from each other. Horror Hound Weekend will be in Cincinnati, Ohio and Festival of Fiends will be in Indianapolis, Indiana.
For Friday series fans, Horror hound will be offering the following guests:
-Richard Brooker (Jason Part [...]
Another update has been announced for the reunion next year, Friday August 13th through Sunday August 15th. I am loving these additions. So many actors and actresses that have never been accessable to the fans are going to be there. It is truly going to be an exciting time for the fans. www.fridaythe30th.com
Please visit www.fridaythe30th.com to buy your tickets for the big event August 13th-15th.
EVENT TICKETS:
$25.00 DAY PASS – (Choose either Friday, Saturday or Sunday admission only).
$35.00 EARLY DAY PASS – (Day pass plus access into the show 1 hour before general admission).
$45.00 WEEKEND PASS – (Friday, Saturday, and Sunday admission).
$55.00 EARLY WEEKEND PASS – (Weekend pass [...]
8/2/2009 UPDATE: Steven Williams (aka Creighton Duke) just confirmed for the reunion!
A huge update of guests has been added to the reunion. And let me just say that I am so impressed at who they have already signed for the reunion. I never thought I would see Steven Culp or Dominick Brascia at a convention. [...]
I just wanted to share this cool banner with everyone. As you can see things are moving along swiftly in preparing this event.  I really hope all fans can make it out to this once in a lifetime event!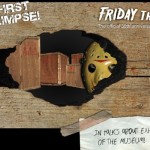 Part of the big news I mentioned can finally be posted. Mario Kirner, who owns the Friday the 13th Props Museum is in serious talks to bring his entire museum to the 30th reunion. For those of you who have not seen his collection, it is quite impressive. What's exciting about this rare opportunity is [...]
I have found out some really big news pertaining to the Friday the 13th 30 year reunion next year. I cannot say what it is now as final details are still being hammered out. I promise you that if this goes through, fans will be very excited and will defnitely want to head down to [...]