Archive for DVD
You are browsing the archives of DVD.
As US fans await the ultimate DVD and Blu-Ray box sets to be released uncut and remastered, I thought I would share some of the French box sets that are available right now for purchase. You can purchase these box sets by visiting http://www.amazon.fr
VHS Box Set Released October 2000.
This set includes Part 2 through 8 [...]
The recent DVD contest that fridaythe13thfilms.com ran was a huge success. We received 125 entries and there were a lot of great responses on what your favorite scenes were between the two movies. Sadly, we did have to choose only one winner. The winner has been contacted by email, but we will not post the winner's name [...]
Bloody Disgusting posted some great information about the new DVD releases yesterday. They were invited to a lunch to celebrate the release and were joined by Kane Hodder, John Carl Buechler (writer/director of The New Blood), and VC Dupree (Julius from Jason Takes Manhattan) as well as Daniel Farrands and his editor Andrew Kasch. They [...]
Some of you were asking for it and now some reviews are surfacing for the new deluxe editions. BC over at Bloody Disgusting has reviewed both movies and I am encouraged by his thoughts on better picture quality and the fact that there is more picture to see! Check out the pictures below and read his [...]
The time is here. The New Blood and Jason Takes Manhattan will be arriving on DVD on September 15th. Would you like to win a copy of each film? In order to win yourself a copy of both films, please send us the following information to [email protected] with the subject line "DVD Contest":
1. Name.
2. Your [...]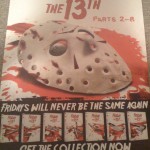 This is a pretty cool poster in that it shows all of the DVD covers together. However, I really am liking the hockey mask laying in the blood in the center of the poster. I hope more of the DVD covers that are released in the series follow this design at some point.